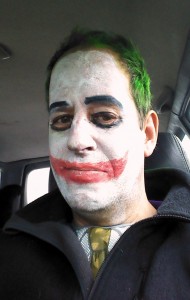 Another year has passed and life remains beautiful. Turning fifty felt somewhat momentous while today is just another day in a string of some very sweet days.
My son's birthday is three days before mine and it has made my own birthday that much more pleasurable. The picture is from his Batman themed birthday party this past Sunday where I played the Joker.
I can't express too often how I feel like the luckiest man alive. I am blessed with the best wife and children i could ever imagine and my life is ridiculously fulfilling as i get to follow my heart where it leads me. I have lived a life of my own design and I have to admit that I am rather pleased with how it has turned out.