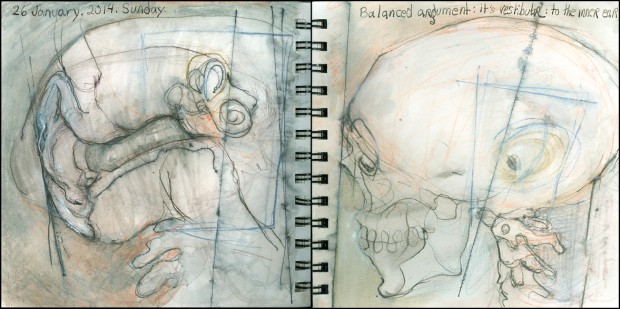 Blog: DayBooks
Balanced Alignment: It's Vestibular: To the Inner Ear
Balance is so much more than having your feet (or your hands) on the ground.  It's a real meshing of object in space (me) and space (whatever environment I'm trying to relate to).  Ever since Jonathan posted the Sit-and-Stand video (and his own efforts with the transitions) I've been working on it, first in Spain and now back home.  Even though I thought at first "no way!!".  My ankles have twisted so many times, been strained so many times, probably even been sprained.  But balance comes into play as well.  And the ability to sense your center of gravity and raise it and lower it.  Or something like that.
Balance is always hard for me — something has always been a little screwy with my vestibular system, and that situation has only gotten worse with graduated lens eyeglasses and other onslaughts brought on by another sort of graduation: graduating from middle age to whatever twilight zone you occupy as you zero in on 70.  It takes a lot of focus to, well, focus.  But Jonathan's video was encouraging.  The graceful ascent is no piece of cake for Jonathan either.  So I shrugged off my initial fit of pique at the suggestion that I should be able to do this move (that was so effortless in my 30s).  I sighed and started to work.
On two continents I've lowered, from standing,  into sukasana (that was always the easy part),  Then a little core engagement: rolling back toward half boat, up to full(ish) boat, back to sukasana and finally into the graceful elevator ride up to standing.  That's the aim anyway.  Not only do I need the support of a handtouch on the way up (and, with my long legs,  my handtouch is on one or two blocks.  Still, touch is getting lighter and lighter.  And after a couple of months I'm beginning to realize that this is within my grasp.  I know: that and a metrocard will get me on the subway.