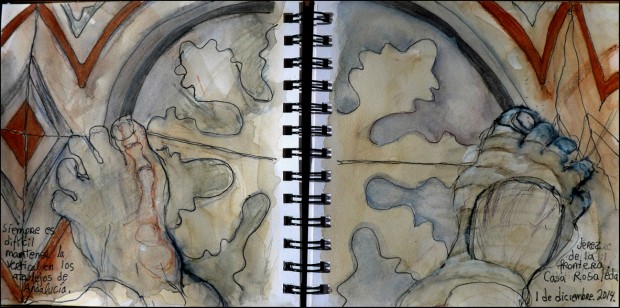 Sharon's blog: DayBooks
So, it's back to Andalucía, back to the land of the tiles.  And if you look down in Jerez de la Frontera, you can be lost.  The vertical is ever elusive.  I know I obsess about this.  I know I come back to these tiles every year.  And start trying to pick apart the vestibular implications of following a logical, but totally extraneous pattern.  These moorish patterns are geometric after all.  (Just like a kaleidescope).  Geometry should be decipherable, both mentally and physically.  But once the combination is straight and curved and color patterns start reversing. Well, whoah. It feel like free fall all over again.
Several of my friends are suffering from foot injuries (fall-based and/or of mysterious origin) so I'm just going with foot transference, foot rooting.
It's cold here (well, for Andalucía it's cold), and the tiles are often icey.  That entails a a reflexive resistance to sensing gravity, at least for me. The foot-jerk reaction is to recoil the foot back off the floor before the whole foot explores the contact.  I'm trying different kinds of grippy, cut-off socks to let me sink in without a bone chil: chopped off toes and even a little Maryjane effect.  It helps.  It really is true that the sole is the soul of the foot.
We've been traveling in Spain for two months now and, as always, I begin to long for our home floor.  It's funny the things you miss.  (I wish I could carry the images of these floor tiles more concretely in my head though.  I draw them every year, and get lost in them.  And I'm happy to touch wood again when we return to Brooklyn.  But I miss the patterns and the flights of fancy they bring to hard and icy reality.
Meditation on gravity.