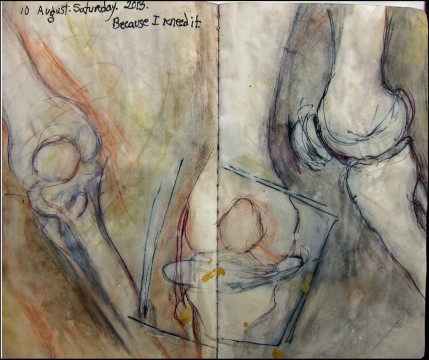 Sketchblog: DayBooks
My husband really, really likes this drawing — he just couldn't see what it represents. Well, anatomy is kind of abstract in a way, mysterious — just as it is concrete and inescapable. Sometimes flexible, sometimes intractable. It's the balance thing again.
We're coming to the end of our six weeks in Buenos Aires. For once we not climbing in and out of  buses. We're staying close to home. It's an election day here, something like a primary. There's a real sense of suspension — more quiet than an ordinary Sunday. We spent a good deal of the afternoon walking around the neighborhood, coming across poling places everywhere, guarded by police and other public forces. Turn-out is high here these days.  Voting is a mandatory right. Serious business.
I'm still trying to understand the very complex issues. Difficult, and not just because my Spanish is as yet imperfect.
And there's more yoga here every year. Almost as many styles are offered here as I see in New York City. And I did try to go to class in Spanish for the first few years. I guess I'm not all that adventurous, at least with my joints (I did get kind of shoved by an old-school teacher once — maybe a trauma). Somehow I feel confident that I know what I need. And I just go joint by joint, paying attention.
Right now it's the knees. Even if my husband can't recognize them. Okay, so I did throw three of them into the drawing. That probably threw him for a loop.
I had to put the drawing in the microwave to get in dry in time to catch the light for photographing. (It so sucks to be without my scanner. I don't know how to say that in Spanish without using really rude language…)  I'm already getting homesick for Buenos Aires.