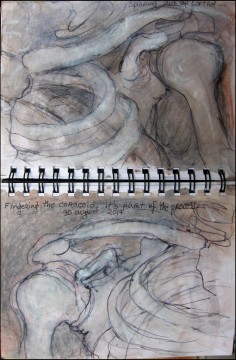 Blog:  Day Books
Coracoid: Spinning Out of Control
A while ago I was reading what Jonathan wrote about his wife Caitlin's shoulder trouble.  I had to let it stew for a while — shoulder injuries are one of the continuing dramas of my life. I work on my range of motion every day — go through three long shoulder stretches every day in the shower and than do some more work in that vein throughout the day. And that discipline is very, very helpful.  And I'm careful about my shoulder position when I do yoga.  That works too.  I should take more care while I'm sitting on the floor, doing drawins/paintings and while I'm working at the computer.  That's harder.  When you're in-the-moment, in an activity, it's hard to be truly in your shoulder.  And it's hard to remember to pause for stretching every once in a  while.
There are other variables too.  Like the floor.  At home in Brooklyn we have wood floors, that hang on their structural supports, if that's clear.  There's some spring to them.  They're not wood on concrete: deceptively inviting, but you can feel the impact of hardness through your skeleton.  I've written about the difficulties inherent in co-existing with the hard tile surfaces of southern Spain.  And some of the wood-on-concrete we find in other places sneaks up on my skeleton as well.
Downward dog, pressing into a hard, hard surface is felt all the way though the hands and wrists, and up the arms, into the shoulders.  I think it's important be be very aware of how your hand is making contact with the floor (even through the travel mat), getting the little tunnel in your palms, keeping some spring everywhere.  Because there is no spring in the floor.
It's not always feasible to put a hold on living in your body until you're back home.  Nothing to do but get comfortable to the new normals.