It has been six months since we stated offering my books and videos as a single package. The response has been wonderful as my hope has paid off that teaching people about how their body worked through our anatomy books and videos would help with the sometimes tricky path to change.
Change is not easy to cultivate but when it comes to walking and standing there are two main factors involved. Developing both an understanding of how the body works and the self-awareness to perceive yourself in space. Number one is often easier than number two.
And now, to help people walk effortlessly through the dog days of summer we are offering a special sale for the rest of the season. If you live in New York City like we do it has been pretty brutal.
Our new offer is $99 for the entire program (plus S&H). For that one low price you get 5 walking lessons (DVD or streaming video), two anatomy books, one exercise book and now three instead of only one video analysis.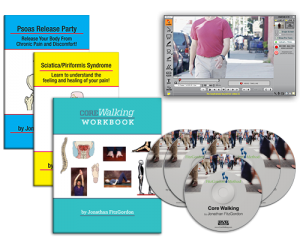 We have found that the videos are extremely helpful when it comes to changing movement patterns. By adding two more videos to the analysis piece of the program we can get a video of your walk before you begin the program and then two more as you proceed.
All of the videos are private and will never be shared publicly without permission. Also there are numerous facial blurring programs available.(you tube offers one).
The anatomy books are an essential piece of the program because we believe that if you know how your body works and why you might be in the shape you are in, then it makes changing your movement patterns easier.
The CoreWalking Program aims to help you change yourself because the only real change comes from within. To that end we are here to guide you through the beautiful terrain of movement patterns offering email support as well as the video analysis that comes with your purchase.
Whether your suffer from pain and/or injury or just want to improve your energy and efficiency, changing the way you walk will have far reaching consequences for the rest of your life.
Get with the program now!