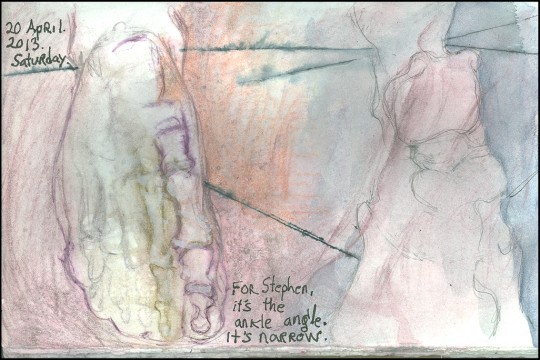 Sketchblog: DayBooks
When my husband was diagnosed with arthritis in an ankle we were worried about lifestyle constraints. We retired to be able to tramp around in Spanish speaking locations. We've watched the worlds of friends our age shrink alarmingly, often through arthritis. And Medicare doesn't offer a wild panoply of treatment options, either traditional or alternative. I got the acknowledgement that I could "I told you so" as much as I wanted: all the things I've beem asking him to change about his posture and gait are real issues: the doc said so. He even bought an improved version of my rocker board board he's been scoffing at for years. And I have him one of my yoga straps for his leg stretches. And some therabands and tubing for his other exercises.
And best of all, it's all worked. His pain is gone. He's walking comfortably, and with his whole foot thank-you-very-much) again after just about a month. I realize that some of the improvement is due to the orthotics and the rocker soles the shoe guy is enthusiastic about.
But when it comes right down to it: it's working out the tightness in his clenched calves, strengthening the ankles, improving his balance, using the whole foot.
It's been a bit of a thrill to watch such dramatic improvement. Fun to be able apply so many things I read on this site to my own husband. And most of all it's been fun to see him get out a real piece of fitness equipment and begin to master it (that rocker board). When we head back to the uneven pavement of Buenos Aries in July we'll both be prepared to remain upright.