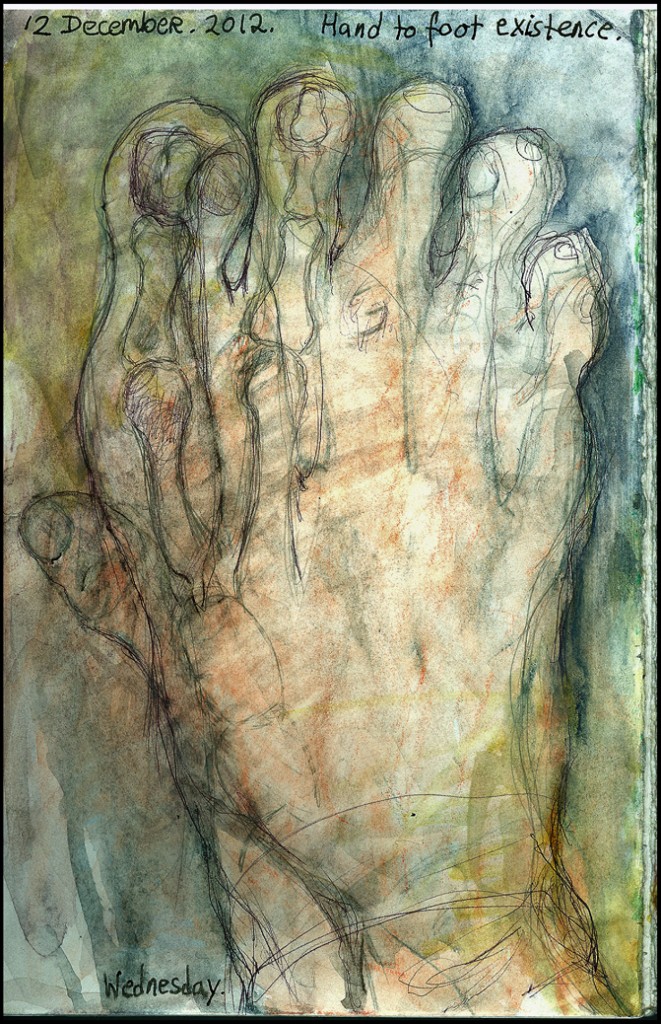 Sketchblog:  DayBooks
For the last many years, we've spent two months of autumn in Andalucía, Spain.(mid October – mid December).  The weather is always variable at that time of year, and this time it was unusually icy cold and even rainy at times. Freezing tile floors.  Hard tile floors.  At the very end of our trip we found ourselves in a cozy hotel room in Madrid, with wood floors.  For the first time in weeks I could walk barefoot outside the shower.  I could feel my toes expand, my arches draw up.  I was in touch with gravity once again.
I'm always surprised to be reminded of how much my own awareness of myself in space depends on the sense of touch: articulation of foot and floor..  Every time we prepare for a couple of months outside the United States  I make plans for supporting my yoga practice.  We travel off season — it's cheaper (within our budget)  That means it's often cold, even rainy and the apartmensts we can afford to rent are often underheated..  I pack toeless socks, socks with grippers, legwarmers, long underwear.  I've even bought hot water bottles.
More major modifications are in order though.  We have six months between trips right now and I'm thinking about shod practices.  Really.  I'll lose a lot of that sense of rooting into the floor, but there must be a way make it work.  The cold tile surfaces interrupt the hand-to-floor chain of connection as well, and the hardness of the surface means all the give takes place in your joints and bones.  A general gravitational crisis.
Standing balances remain central to my travel yoga practice. It's not as much fun, or rewarding, to do them in shoes, but it works.  And I don't want to give up those autumns in Jerez and Cádiz.