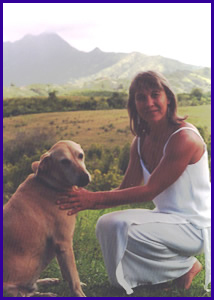 We are here at day three of the Be Your Own Healer telesummit. Today's interview is with Michaelle Edwards. We have worked out the technical kinks from the first day and things should be smooth sailing from here on in.
Michaelle Edwards is the creator of YogAlign which incorporates self-guided bodywork fused with natural alignment poses to rewire posture habits from the inside out. Michaelle is also a body worker, musician and posture educator who lives in Kauai.
Michaelle Edwards owns and operates the Kauai Yoga School and feels that we do not have a health care crisis as much as a self-care crisis, and she is devoted to giving people safe, painless, effective tools to heal themselves. As an author, Michaelle has a new book/DVD combo called YogAlign: Pain-free Yoga from your Inner Core available at her website www.manayoga.com.
I met Michaelle when we had a spirited back and forth in response to both an article she wrote on the Huffington Post and a column in the New York Times by William Broad. We respectfully agreed to disagree on a number of points and Michaelle was gracious enough to accept my invitation to be interviewed for this series.
What we both know is that we have an epidemic of pain in this country as well as a lot of habits that create that pain. What we also both know is that you don't have to settle for this pain. I really enjoyed speaking with Michaelle and learning more about her YogAlign method. Here's what a YogAlign class offers: "YogAlign practitioners feel like they have been to a strangth, flexibility and alignment session, done Pilates, had a massage and chiropractic adjustment, undergone therapy with deep breathing while meditating all at the same time"
I think you will be very interested to hear what she has to say.
You can sign up for these amazing interviews @ Be Your Own Healer