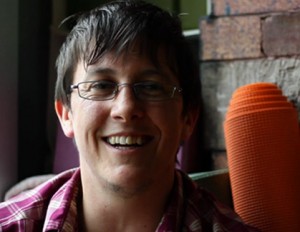 Today is the start of the Be Your Own Healer telesummit and we are starting things off with Jacoby Ballard a Brooklyn-based yoga and Buddhism teacher known for his playfulness, heart-opening, and commitment to change from the inside out.
Jacoby took classes with me a number of years ago when I owned a yoga studio in Brooklyn, in Carroll Gardens. When my family moved to Ditmas Park I was thrilled to find that Jacoby had co-founded the Third Root Community Health Center with the expressed interest of offering the tools of yoga, massage, acupuncture, and herbal medicine to people of all types and stripes.
While I currently I teach a couple of classes each week at Third Root, I particularly look forward to when I am able to take Jacoby's class which always creates an amazing space and makes me very happy. Jacoby has an incredibly sweet and natural presence.
I had a great time interviewing Jacoby and learning more about his past and his process and think he is a great way to start off this inspiring series.
It is not too late to sign up for these amazing interviews @ Be Your Own Healer