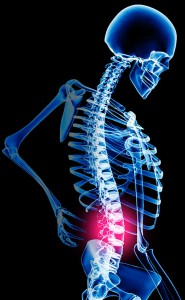 Healing my back injury has been a trip. I fell two weeks ago yesterday and today is the first day that I feel fully (98%) back to normal. I am not at all averse to getting injured. We are here to get hurt and to heal. What a beautiful thing. What blows my mind as I work through this current injury is what a mess things are for people who get hurt without an awareness of their body.
I took a nasty fall resulting in a blunt force trauma to my lower back that I believe tore something at the top of my pelvis. I think this was accompanied by some, but not severe internal bleeding, and anytime I made a wrong move my back on the right side went into spasm for an extended period of time.
Feeling like I knew exactly what has happened to me, I took some extreme measures towards healing my back injury (with the help of my invaluable chiropractor). I have long told students and clients that every time they feel a tweak of pain they are reinjuring themselves. So I had to listen to my own words and take a step back.
Sleeping has been no fun because it is something that I can't really control so at least a couple of times a night I have felt the familiar yet extremely weird burning/tearing sensation that has accompanied this mishap. But sleeping aside I was also feeling my back anytime I got up from my expensive office chair, anytime I reached too far or bore weight with my left hand, and with every step I took with my left foot.
The solution for healing my back injury was to radically change how I live my daily life.
For one, since I wasn't able to exercise like normal, I was trying to walk more and by the end of each day my back would be throbbing with every step. So I stopped walking my usual seven miles and limited myself to less than four (under 10,000 steps). I also shortened my already short stride so that I limited my spinal rotation to a minimum.
My Herman miller chair has been banished in favor of a hard chair that requires much less effort to get out of and I only returned to sitting on the couch last night. Every time I sunk into its cushy confines, I knew there would be a spasm involved when getting up. Sitting on the same type of hard chair as in my office might not be fun when my family is ensconced on the couch but to be free of pain is a beautiful thing.
I have also squatting with a solid spine, avoiding bending to lift anything and I am now spasm free for two days, with the lone exception of bending to clean up after my dog (to scoop or not to scoop) and I feel confident that it will continue in this way as long as I am vigilant. Yesterday I moved about without thinking about how and this morning I feel about 98% though I am and ready for a little exercise.
Life is full of ups and down some more avoidable that others and while getting injured sucks, healing is awesome.