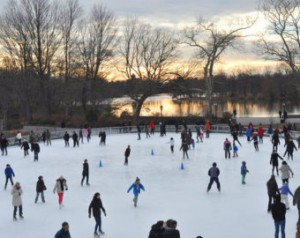 In many ways I grew up in Prospect Park with some of the seminal events of my life occurring there.
Early memories of a strained relationship with a distant father are punctuated by the recollection of the smell of hot chocolate waving under a six year old nose. Prospect Park and ice hockey lessons beckoned at six in the morning and my selfless father had me up and out of the house for a quiet ride to the park with a thermos of hot chocolate in my lap.
Classically collapsed ankles prevented me from progressing far though I loved trying and I especially loved the uniform and equipment. The trip to Herman Sporting Goods in Valley Stream to buy the pads and equipment is another indelible memory.
With age my ankles got stronger and I returned to skating on numerous occasions.
In the 1980's I lived in Boston and had access to the hockey rink at UMass Boston. I skated every day for a while and met a former college hockey player who took my skills to another level, putting me through some serious paces running skating drills as we had the ice to ourselves day after day.
In the 90's I started Rollerblading and my skates were practically wedded to my feet from the moment I got them.  And I returned often to Prospect Park skating at the old rink that provided me so many good memories.
Now at fifty-one I have a six year old son and both he and my daughter joined me at the newfangled rink that recently replaced the one of my childhood. Circling the ice with their hands in mine has me surfing a tide of joy and reverie.
We were out for two and a half hours on Sunday and buy the end I felt as if I was beginning to get my chops back.
For the last five minutes I followed one of the more advanced skaters doing my best to match his moves and speed. My smile couldn't have been bigger as I chased around the ice unbeknownst to him.
To be outside in the park on a Sunday morning sharing skating with my kids makes precious memories of my father even more rich.