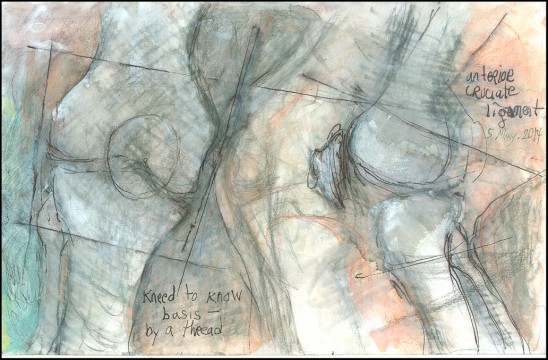 Blog: DayBooks
This drawing was inspired by the great international football goalie, Victor Valdes, of the legendary La Liga (Spain) team, Barcelona.  In a recent game he tore his ACL — a season-ending injury in what was pretty sure to be his last game for Barcelona. The bones of the lower leg seem to hang by a few threads: an almost impossibly ingenious construction.  The threads are seemingly threads of steel: they're ligaments, meant to function for a lifetime. Professionals players in international football (or as we know it in the United States, soccer) must put more than a few lifetimes of demand on these structures.  The twisting and pivoting you see on the field, along with collisions in improbable positions, the goal-keepers' ability to fly into configurations of limbs all challenge credulity.
And the body doesn't always hold together.  That's no surprise.  I've done my knees and ankles enough harm on uneven pavement (hello Buenos Aires) and winding, poorly-lit staircases (hello Porto) .  I've done harm even when I knew where I was  going.  And I'm not ever likely to be chasing a ball in spite of a bunch of people who don't want me to reach it.
Somebody (well a team of bodies) have pieced Valdes together again —  re-stabilizing the coming together of the tibia and the femur.  And now he's undergoing the seven-month-long healing (rehab) process.  That's the hard part and that's the part he'll have to take charge of, admittedly with a lot of expensive help.  My own rehabs have been such small-time affairs.  I've (thankfully) never even had to undergo orthopedic surgery and my related medical consultations have been simple just between me and my doctor, my physical therapist and my yoga teacher.  And I do a lot of my rehab by myself, on my mat and often through my drawings.