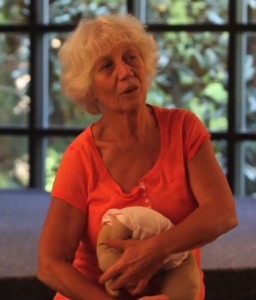 Sandra Jamrog passed away last week and the world lost a pioneer of movement and child development. Sandy was one of the founders of CEA/MNY (Childbirth Education Association of Metropolitan New York) and one of the first people trained in the amazing Body Mind Centering practice.
My abiding memory of Sandy Jamrog is an image of her on hands and knees, wedged under my bathroom sink, massaging my wife's calves as she worked through powerful contractions getting ready to deliver my daughter Ida.
The fact that we were in my bathroom having our daughter in the comfort of our apartment was due in large part to Sandy. Around that time I was taking privates with her learning about movement in a way that was to greatly influence my CoreWalking program.
I arrived at a session and told Sandy about my wife's pregnancy and she very matter of factly informed me, "well you'll obviously have the baby at home."
I replied that while I was up for that I wasn't sure about my wife. To which sandy simply smiled.
Two home births later, both attended by Sandy, I could never fully express how special that exchange turned out to be.
In that moment a switch occurred that saw my wife begin to work with Sandy who also became an invaluable mentor to her.
I teach people to walk in large part due to Sandy, I had both of my children at home due to sandy and my wife is a childbirth educator because of Sandy's influence.
In the grand scheme of things those facts all make me so happy because Sandy was an unbelievable bundle of guileless joy and I couldn't imagine any better energy as a part of my life.
Sandy Jamrog's influence will resonate with my family through all the years of our lives and for that, we are profoundly lucky.