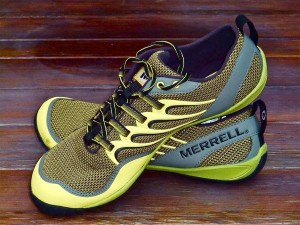 I decided that I wanted to wear a pair of barefoot running shoes as my every day sneakers. I walk barefoot as much as I can and I run in Mizuno flats but my sneakers are your standard issue arch support type of shoes. After talking to a number of people I decided on the Merrell Trail Glove.
Right away I really like the trail glove because it has the same feature that I love in my favorite brand of shoes (Ecco)— a tight heel and an open toe box. The shoe itself has very little support which I love. They also make a road glove that has a stiffer bottom. I didn't try them on since I knew I was looking for the trail version.
The only issue I have with the Merrell Trail Glove so far is something that I have seen in the Vibram five finger shoes. When standing the toes aren't on the ground. They kind of curl up at the front which drives me a little nuts as I was hoping as much as possible to get a true bare foot feeling from these sneakers.
The main issue of course is that these shoes don't teach you to walk correctly. One of the theories of barefoot running is that the heel won't allow you to give it the pounding that a sneaker will happily absorb. This forces you to the forefoot, either exclusively or by barely touching the heel to the ground.
It hurts to experiment with running badly while barefoot but going into my miserable old walking pattern (feet turned out, leading with the legs) with my new sneakers was no problem at all. While they provide phenomenal access to my good walking patterns, they don't discourage walking badly at all.
***