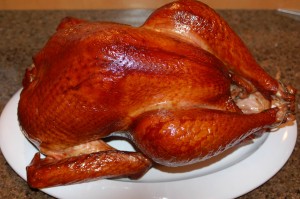 I have been cooking the thanksgiving feast for my wife's family and mine for the last several years. Thirty plus people crowd into our relatively small apartment and have at it. It is my favorite week of the year as shopping, prepping and cooking the meal make me happy beyond compare.
The first few years I messed with different turkey recipes that required flipping and basting and turning and what have you before settling on the recipe below that is hands down the easiest and best.  One turn of the pan and that is all she wrote. You won't believe how good it is.
I buy the turkey three or four days before cooking and dry brine it with salt and leave it in the refrigerator. An essential element is drying the bird inside and out. You can't spend too much time getting the cavity good and dry. Any moisture creates the possibility of steaming rather than roasting which you really don't want (this goes for your roasted chickens as well).
Have a happy holiday.
Simple Roasted Turkey:
Preheat oven to 500 degrees.
Rinse inside and out, dry with paper towels and bring turkey to room temperature.
Sprinkle turkey liberally with salt and ground pepper and place into a roasting pan on a rack.
Cook, rotating pan 180 degrees after 1 hour; add a cup or two of water or chicken stock to pan if drippings appear to be turning too dark.  ]
Check temperature in the thickest part of the thigh at 1 ¾ hours. Remove from oven when temperature is 165 degrees, usually 2 hour's total cooking time for an unstuffed 13-15lb turkey. Let turkey sit for 30 minutes.