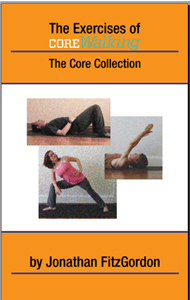 Paperback or eBook: 76 pages
Language: English
Product Dimensions: 0.2 x 4.9 x 7.9 inches
This book is a basic collection of exercises that we offer to clients of the CoreWalking Program. Anyone who walks in our door will receive a series of exercises meant to create a workout tailored for them specifically. We all need to work on different parts of our body to create a balanced whole and no two people are the same. At the CoreWalking Program we analyze our clients to help them rebuild their bodies in a conscious and specific way. While we work with a wide variety of exercises, the idea is to only do the exercises needed to bring balance to a certain part of your body. You should test your ability in all of these exercises and, as long as you are doing them correctly, focus only on the ones that seem more difficult. The work is a search for ease in the body and ease in the mind. Once an exercise is easy to complete you might do it once in a while for maintenance but continually focus on the muscle groups that don't work as well as others. This will help maintain the discipline required to develop a balanced body.
$17.95 USD
Please select a format:
Giving Back
For every program we sell, we will provide another program to people or organizations in need.
Shipping Information
There is an additional charge of up to $25 for international shipping.
Money back guarantee does not include shipping costs.
Discounts and Promotions
Product discounts are available for the following persons:
– Active and retired soldiers.
– Healthcare professionals, including yoga teachers, pilates instructors, Chiropractors, and rolfers.
– Those in chronic pain who lack the financial means to purchase our products.
If you qualify for a discount, please contact us at info@corewalking.com.