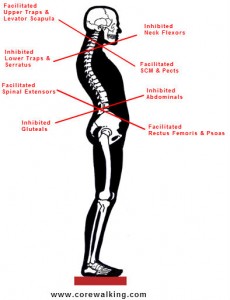 For two weeks from May 5th – May 19th I am hosting the Be Your Own Healer telesummit. In this event you can listen to fifteen interviews I recently conducted with health professionals ranging from yoga teachers to doctors, coaches, rolfers and more.
This has been an awesome experience for me and I look forward to sharing it with all of the readers of the blog. Registration is free and if you want to join click on the links above or below.
One of the questions that I asked each participant was what led them down the path towards helping people. About half reported pain, injury or illness as a key factor in the flowering of their professional careers.
I thought about this as I was reading about the physician Vladimir Janda who is credited for defining patterns in the body that he referred to as syndromes.
I recently wrote about the upper crossed syndrome and the many muscles involved with it, and I am getting ready to look at the lower cross syndrome and the muscle at play in that imbalanced pattern.
Dr Janda contracted polio at the age of fifteen and was unable to walk for two years. At first his work focused on patients who had recovered from polio but soon found that his interests led to study and work with movement and muscle imbalance.
The syndromes as defined by Janda included the aforementioned upper and lower crossed syndromes and also the layered syndrome.
These syndromes speak to imbalances in muscles regarding both their strength and weakness, and tension vs. laxity.
Whatever the imbalance in question, it will ultimately have an effect on our movement patterns and our posture.
I'll cover the lower cross pattern and the related muscles over the next week.