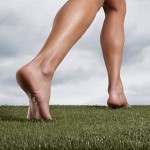 Prospect Park is one of my favorite places on earth. One of my earliest memories is my Father waking me up at 5:30 in the morning by waving a thermos of hot chocolate under my nose. He would bundle me off to the Prospect Park ice skating rink to take hockey lessons. Oh how I wish my hockey skills were as good as the memories.
Forty years later I try to take my dog Ollie to the park at least two or three times a week for him to run and for me to walk. Of late I have taken to leaving my shoes in the car and walking barefoot for the whole journey. I just love it. It isn't always comfortable. There are a number of stretches that are impossible to traverse easily no matter how gingerly I step.  But then I hit a patch of dirt or grass and it is like heaven travelling up my body.
I remember reading in a reflexology book some time ago that getting up and walking barefoot on a dew stained lawn is better for waking up the brain and nervous system than coffee. Having spent a number of these mornings walking barefoot I can attest to that fact even though I haven't given up the coffee ,especially now that my local coffee shop is selling cold brewed iced coffee that is ridiculously good, but I digress… I usually walk for about a half an hour and when I am done everything feels different—my legs, hips and even my shoulders and neck feel opened.
My Daughter Ida hates wearing shoes and I am not big on forcing her to put them on. But to let her go around walking barefoot I have to suffer looks and quips from people who think I am insane and should be referred to social services. It takes resolve for me to let her walk free. My Son Reggie on the other hand can't get his shoes on fast enough in the morning. I let that go too and hope that over time Ida's influence will encourage him to takes his shoes off as well and get walking barefoot. I encourage everyone out there who reads this blog to do the same.
***