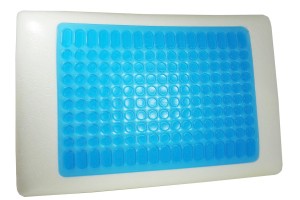 A pillow that keeps your head cool? Get out of town.
Right off the top I need to acknowledge that this is a shameless plug for a college project that my niece is part of. It just happens to coincide with my obsession with all things sleep.
An email showed up in my inbox proclaiming that there were polar bears in need of saving and if I would be willing to buy a pillow my niece my get a good grade.
It was a no brainer. Coupled with the fact that her price was better than anything else I could find online and the reviews for such a cool pillow were stellar.
And what is this cool pillow nonsense about which I babble.  According to the website, "The Polar Pillow is a memory foam pillow with a cooling gel pad built-in on one side. The cooling gel pad will reduce the user's body surface temperature by 1.5-2°C, ensuring a cool night's sleep."
And it works. The cool pillow side is the firm side but if you want to maintain a higher body temperature (?) you can use the other less firm side.
My wife and I have had our pillows for a week and my son is angling to steal hers as he clearly knows better than to abscond with mine.