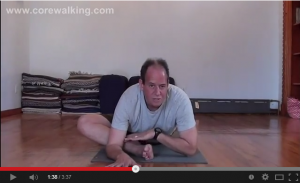 Recently I posted a forearm plank variation. Here is another video, this one a favorite hip opener. This pose is lovingly named the Jimmy Special for Jimmy Bernaert who I took classes with about a dozen years ago. He had just left an ashram in South Fallsburg and was in the city for a year teaching at a studio called Yoga Mandali.
Jimmy simply had the very best energy and taught fun inspiring classes fully and completely devoid of ego. Jimmy was an Anusara teacher who had also studied a lot with Adhil Palkhivala. He had a bag full of seriously fun tricks.
This pose is a very deep hip opener— sort of an extreme pigeon pose— that asks a great deal of the rotation of the femur head in the hip socket. In the video I refer to it as pigeon with the foot behind the head and I relate a story of just such a pose. I have ridiculously open hips that betrayed me early in my yoga life but are rather happy now that I have core strength and tone in my inner thigh muscles and a teacher once decided that I should.
The Jimmy Special
From hands and knees or down dog step the right foot forward and move it in between your hands.
Put the left knee down if it isn't already.
Move your right foot forward lining the heel up with the fingertips.
Start moving the front knee out to the right leading with the inner thigh going back and down and the inner foot pressing forward trying to avoid collapsing the ankle as best you can.
As you move the right knee out make sure that the left side of the body does not move to the right with it.
The left thigh and hip want to lower straight down.
The heel of the right foot should be directly under the bottom of the sternum.
Go as deep as you can trying to maintain the integrity of the front foot.
You can come to the forearms or even lay your chest on your heel if such a thing is possible.
Do the second side.